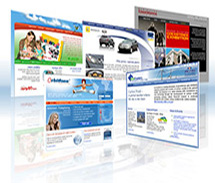 How a website should be designed
With the millions of website's out there competing for viewers, it is not only important but imperative that a website is designed for search engines and not just for looks alone. A website design needs to be attractive, user friendly, search engine friendly, informative and well balanced in all of these things.
A website needs to have correct SEO elements such as proper image tags, keywords, META tags and other items that make it search engine friendly. It should also have no HTML coding mistakes so that the pages display properly in all web browsers on computers and mobile devices. A website design should be attractive but easy to navigate so people can easily find the information that they want. A website should be informative, but not so much to confuse people or lose their attention off of the main focus of your message. Balancing all of this in a website design is a very time consuming process and most web designers are not willing to put in that much time, or just don't know how to do it, and they will only build you a website that looks pleasing to your eye in order to save them time and get your money quicker.
Web Design companies are all over the internet and each are willing to build you a website - but the trick is to find one that is knowledgeable, patient, and willing to explain how your website needs to be designed in order to be productive for you. A website is an extension of your business, and if you website is unprofessional then that reflects on you. This is where we can help by designing you an affordable website that is attractive, informative, user friendly and well balanced, but most importantly... search engine friendly.